I recently painted an unusual 55′ mural at Malibu Seafood Restaurant in Malibu, California.  It was totally fun for me.  The owners and I had a similar
vision and outlook on life that allowed the mural to flow through my creative, free spirited self.  I welcome you to take a tour through the mural below, and also to visit Malibu Seafood.  They have the best seafood and view in Malibu!
"Carolee painted a truly awesome mural for our restaurant in Malibu, Malibu Seafood.  The mural is 55′ long and is a whimsical, surrealistic trip on Highway 1 through Malibu. She was completely committed to creating the very best mural for us, and exceeded out expectations.  I am happy to give her a resounding recommendation." – M. Ridgway, owner of Malibu Seafood
I painted the mural below for a Jose Cuervo campaign.  It was reproduced for tequila bars in 13 airports across the country.  This picture was taken in the airport in Charlotte, NC at the Tequileria.
"Carolee's art was reproduced in 13 tequila bars in airports across the country for our Jose Cuervo campaign. She was very professional and accurate, creating just what we needed.  I am very happy to recommend her."  – Tom Snell, former Vice President Jose Cuervo International
 The Legendary Park Plaza Hotel
"Carolee, thank you for the fantastic work!  You did such an amazing job repairing and restoring our ceiling. It was a pleasure working with you. I look forward to having you back to help restore the remaining areas of the building."- Luis M. Moral, Property Manager, Park Plaza Hotel, Los Angeles.
I had the honor of doing some mural refreshing at the historic Park Plaza Hotel in Los Angeles. The hotel is just magnificent. It is like a Florentine place with lavish Romanesque architecture. The Renaissance-style murals that I refreshed were designed and executed by Anthony Heinsbergen, a noted painter of many Los Angeles cultural landmarks.  
The hotel was built as an Elks Club lodge in 1925. The pool area hosted many indoor swimming events during the 1932 Summer Olympics. Eventually, the Elks sold the building, and it ended up being transformed into a luxury hotel. Today the Park Plaza Hotel is designated as an historical landmark. No longer a hotel, it is currently used in a variety of motion pictures, television series and commercials, and events for the Hollywood Elite.
As I worked in the ballroom I could feel the many parties, events and films that were created there over the years.  Loved it!
Here are some pictures of the hotel, and what I painted.
This is a 30′ mural I painted for Ziing's Restaurant and Dueling Pianos Nightclub in Fullerton, California.  Please check it out below.  Ziing's food is awesome, and the dueling piano bar is a blast.  Please visit when you're in the area.
"The dragon mural Carolee created is a beautiful enhancement to our restaurant.  
She exceeded our expectations. We love it.  Carolee is very easy to work with.  
We are happy to recommend her."  – Robert Marenco, Ziing's Restauran, Fullerton
I painted th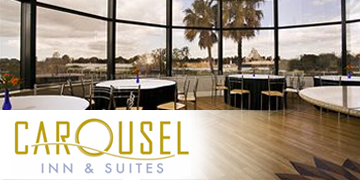 e logo in the pool area for Carousel Inn and Suites jn Anaheim, CA.  I also painted the elevator area on four floors of the hotel.  Please view the pictures below.
I painted these signs for H2O Sushi Restaurant in Triangle Square in Costa Mesa, CA.
Here is a mural I painted in the bar of the Jetty Restaurant in Palm Desert, CA.
"Carolee an incredible murals for my restaurant and home – a 16' x 66' mural for me at my home in Rancho Mirage and a 9' x 75' mural in my restaurant, 'The Jetty,' in Palm Desert. In my living room and restaurant one feels transported to a tropical paradise. Both my home and restaurant were under construction when she painted the murals, so the conditions she worked under were very arduous. Many of the days it was 105-110 degrees with 20 workmen running saws and creating dust. In the midst of all this she created two lovely murals. Carolee was not only responsible and focused but also fun and humorous!" -Brad H., Palm Desert, CA
I designed the tile for the Embassy Suites Hotel in Santa Ana, CA. The tile was used in  6 other Embassy Suites Hotels across the country as well.